Gainesville: Your First Stop in Texas
Traveling south through the picturesque Red River Valley from Oklahoma, Gainesville is your first stop in Texas and a prime location for your company. Just one hour north of the Dallas-Fort Worth Metroplex, we are capturing the growth of North Texas because of our shovel-ready space for development, incentives such as the New Market Tax Credit, and a supportive Economic Development Corporation. Gainesville is your launching pad to business success.
Population at a Glance
The draw of Cooke County and Gainesville is clear. The population of Cooke County has increased by 11.15 percent since 2010, providing an extensive labor pool to meet your workforce needs.
Gainesville: 17,452
Cooke County: 42,753
Population within 60 miles: Nearly 4 million
Transportation Assets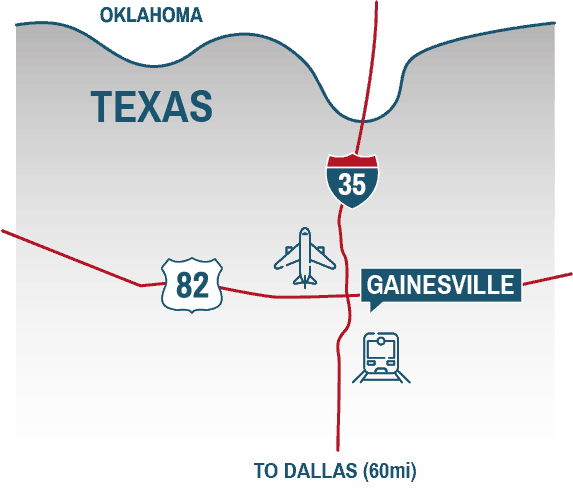 Distance to Major Cities
Gainesville is located on the I-35 highway, an expanding route on the NAFTA Corridor that bisects Texas. Businesses located along this route are positioned for success.
60 miles north of DFW International Airport
Intersection of Interstate 35 and US Highway 82
NAFTA Highway
BNSF Railways & Switching Yard; Amtrak Passenger Service
Gainesville Municipal Airport
2300 Airport Road
Gainesville, TX 76240
Phone: (940) 668-4565
Fax: (940) 665-6884
The Gainesville Municipal Airport is a general aviation facility serving the needs of North Texas conveniently located near the intersection of U.S. Highway 82 and Interstate Highway 35. It is north of the DFW Class B airspace and has two runways in operation that will accommodate various aircraft ranging from a Piper Cub to a Gulfstream V. The airport has recently completed a runway and taxiway overlay project and developed a new Airport Master Plan, which shows significant aviation growth over the next several years.
1328 N Dixon Street
Gainesville, TX 76240
Phone: (940) 668-3053
Rail service is convenient and accessible in Cooke County. Gainesville has a switching yard for the BNSF intermodal route that travels through Gainesville to the Houston Port. The rail park is on target to be the largest one between Fort Worth and Oklahoma City.
The Gateway Industrial Park is a BNSF Certified Site with last-mile service including a transload facility. Companies that locate in a BNSF Certified Site can cut six to nine months off of their project development time.
Quick Facts
| Community |   |
| --- | --- |
| Gainesville Population | 17,452 |
| Cooke County Population | 40,096 |
| Population within 50 miles | 1,954,598 |
| Median Age | 33 |
| Median Income | $43,587 |
| Home ownership | 54.68% |
| Talent |   |
| --- | --- |
| Labor Force | 8,591 |
| Total Employees | 11,058 |
| Total Employee growth | 8% since 2014 |
| Manufacturing |   |
| --- | --- |
| Top Industry | Manufacturing, 2085 jobs, 24% of workforce |
| Manufacturing employment growth     | 320 new jobs in 2018 |
| Investments | $48,600,000 expansions/ new business since 2017 |
| Expansions | 4 major manufacturers have expanded since 2017 |
| Transportation |   |
| --- | --- |
| Freight Rail | BSNF Railways with Switching Yard |
| Passenger Rail | Amtrak Heartland Flyer |
| Airport Gainesville | Gainesville Municipal Airport |
| Airport International | Dallas Fort Worth International Airport, Love Field |
| Interstate and Highways | Interstate 35, US Hwy 82 |
| Utilities |   |
| --- | --- |
| Electric | Pentex Energy |
| | Texas Electric Choice |
| Gas | Atmos Energy |
| Water | City of Gainesville |
| Fiber Optics | Nortex |
| Tax Rates - Property per $100 assessed value |   |
| --- | --- |
| Cooke County | 0.03787 |
| Gainesville Hospital | 0.1113 |
| North Central Texas College | 0.1212 |
| Road & Bridge Fund | 0.115 |
| Lateral Road | 0.0001 |
| Gainesville ISD | 1.28 |
| Gainesville City | 0.72254 |
| TOTAL | 2.72884 |
| Sales Tax Rate |   |
| --- | --- |
| Sales Tax Rate | 8.25% |
| State Income Tax |   |
| --- | --- |
| State Income Tax | No personal state income tax |