LANDON WINERY PURCHASES HISTORIC S.H. KRESS AND COMPANY BUILDING IN GAINESVILLE, TX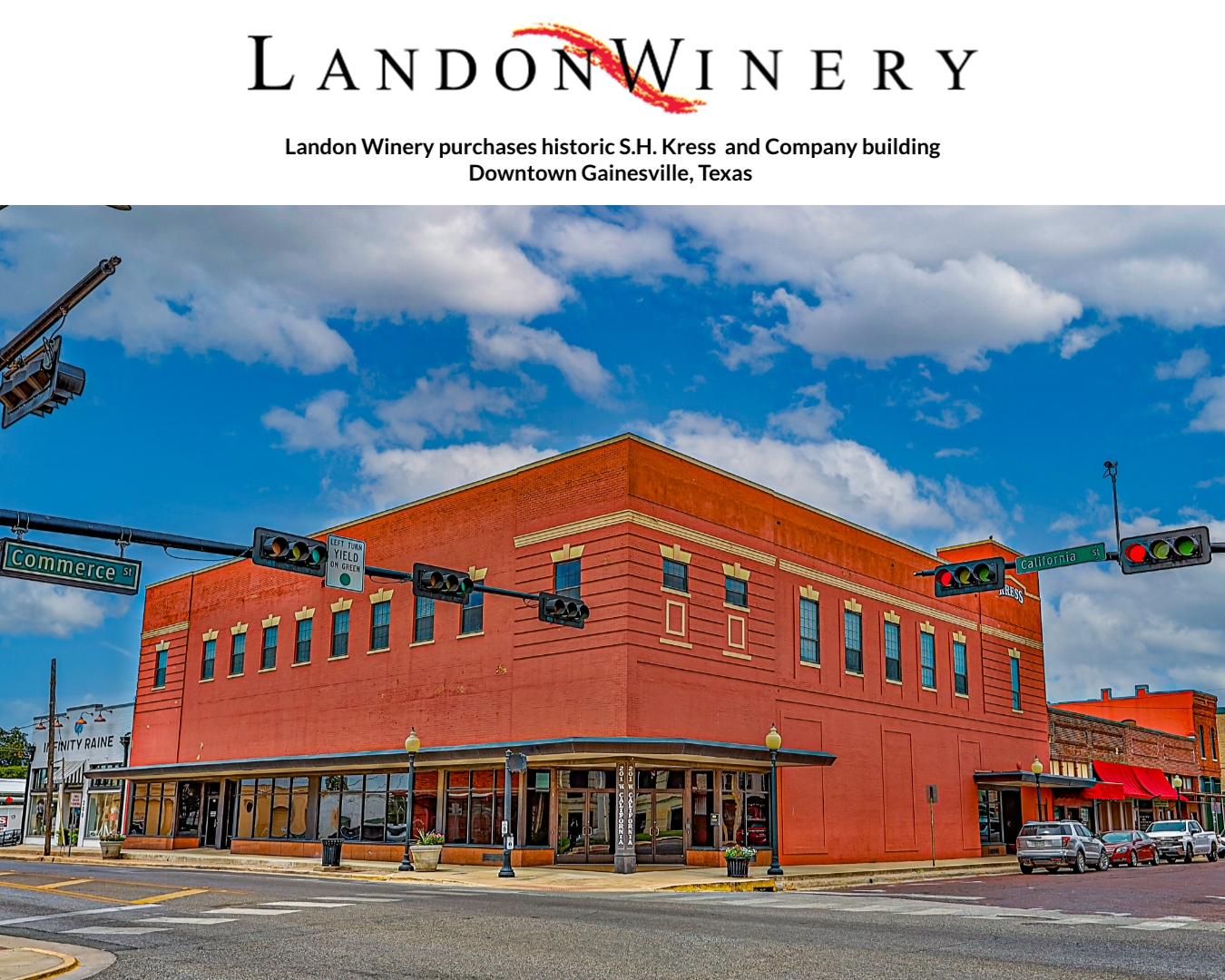 GAINESVILLE, Texas – A former five and dime, well known for their unique architectural flair, has found new life on the square in historic downtown Gainesville. Landon Winery is the new owner of the S.H. Kress and Company building located at 201 W. California St. Landon Winery was established in 2005 by Bob and Katie Landon and is known for producing quality wines and hosting fun and educational events.
This will be the winery's seventh location in the DFW Metroplex. The Landon Winery Tasting Room is anticipated to open towards the end of 2023.
Bob Landon, President of Landon Winery said, "Gainesville has been on our radar for some time and when I saw the old Kress building was for sale, I jumped at the opportunity to become part of the community. Gainesville is strategically located in the North Texas Wine Country where there are many quality wineries. The region is quickly becoming a wine destination."
The two-story, 20,000 s.f. building was constructed in 1917 by S.H. Kress and Company. Kress intended for his stores to have a unique look and serve as public art in downtown locations. Some Kress buildings around the south have found new life as apartments, hotels, office space, event venues and more. This one is no different. Landon anticipates partnering with a brewery in the space and co-hosting some fun, educational events together.
"Landon has a great winery in another historic Kress building in Greenville, TX and we are looking forward to seeing his vision become a reality in Gainesville, too. This 20,000 square foot, historic property will be back on the tax rolls, generating economic activity and taxes," said Precinct 2 Cooke County Commissioner Jason Snuggs.
"Landon Winery is a wonderful addition to the historic downtown square. Research shows wineries drive tourism dollars to communities. It will be a popular destination that will bring new visitors downtown and provide new exposure to our neighboring shops, restaurants, and lodging," said Jennifer Shumate, Executive Director of Gainesville Area Chamber of Commerce. "The Downtown Development Association and the Chamber of Commerce are looking forward to working with Landon Winery to maximize their success in historic downtown Gainesville."
Landon plans on making the second floor into office spaces. Plans for the remodel are being prepared and will be delivered to the City of Gainesville in the coming weeks. Work will commence shortly after City approvals are received.